Best Outdoor Footwear for 2019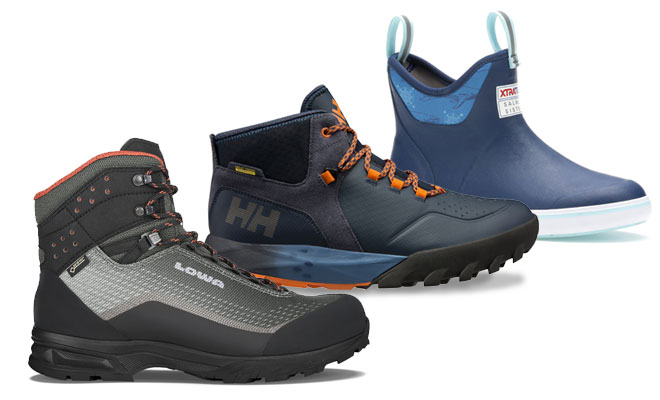 Hiking boots and outdoor footwear is an important part of any outdoor-enthusiasts arsenal.
We at Fish Alaska test hiking boots, rubber boots, extreme mountain boots, winter boots, and casual footwear for camping and more.
These are the best hiking boots and outdoor footwear for 2019
Helly Hansen Loke Rambler HT
hellyhansen.com
An immediate favorite for our tester, these boots are great all-around waterproof footwear. The slim laces are a welcome feature and we dig their rain boot meets hiking boot style.
Kenetrek Bridger Ridge High Boots
kenetrek.com
These boots offer superior traction through a grippy, beefy sole. The padding on the collar and tongue make for a super-comfortable fit. We also appreciate the reinforced toe and heels when hiking in rocky terrain. We wore the boots in some wet conditions on several fall trips and they did an admirable job of keeping our tester's feet dry.
XTRATUF Men's Kryptek 6-inch Ankle Deck Boot
xtratuf.com
Available in Mandrake, Yeti White and Pontus Blue camo patterns, these boots are outdoor-lifestyle stylish as well as functional. They are short, so they're easy to put on and take off, yet tall enough for breakup season and general boat use. They feature the same slip-resistant Chevron outsole as the Legacy boot, so you're assured good footing on wet decks. On hot summer days, these shorter deck boots can be more comfortable than over-the-calf deck boots.
The North Face Men's Litewave Flow Lace
thenorthface.com
These shoes are really light and comfortable. We used them on pavement, gravel trails, grass and they are light as a feather and perform well. Breathable mesh keeps feet cool and allows the shoes to dry quickly. The lacing system is efficient and stays tight while the soles provide excellent traction.
XTRATUF Spindrift Kryptek Pontus
xtratuf.com
These shoes are light and easy to wear. The Kryptek Pontus pattern is awesome. The upper is made from ventilated air mesh, so water and air can flow through it easily. The non-slip outsole is similar to a sneaker, thus providing comfort and slip resistance.
Korkers Women's Snowmageddon Boots
korkers.com
Warmer than warm, plus dry, plus a BOA fast-attach, fast-relief system equals one of the best winter boots ever made for women. We give two thumbs up to Korkers new ice-fishing boots for women. Whether you sit and fish on the ice, spend ample time on the snow machine or hike with the dogs in the depths of an Alaska winter, Snowmageddon boots by Korkers are as good as it gets.
XTRATUF Salmon Sisters Whale 6" Deck Boot
aksalmonsisters.com
It's exciting that the Salmon Sisters are in their 4th year of collaboration with XTRATUF, Alaska's most-popular footwear. This model features Salmon Sisters' prints on XTRATUF Deck Boots. "I sport the navy-blue Whale Deck boots and get lots of compliments," said Melissa Norris, "Since they are low top, waterproof, and easy to slip on, they work for a warm day of boat-bound fishing or for pulling on to run to the store."
LOWA Irox GTX Mid Hiking Boots
lowaboots.com
These boots are comfortable, offer great support, are well-built, and stylish. They are fully synthetic and made to handle tough terrain. They are lightweight which is helpful in reducing fatigue during long days in the field, are GORE-TEX lined, and waterproof. We like these boots for mountain hikes and hunting, but they are also lightweight and breathable, which makes them a great all-around boot for Alaska all year long.
LaCrosse Women's Alpha Lite 14" Boots
lacrossefootwear.com
Our tester spotted these boots at Sportsman's Warehouse and was interested. They are waterproof, warm, and the boot goes up to the knee with a waffled, neoprene side that is a stylish touch. These boots look and feel great and are perfect for the Alaska lifestyle.
Bogs Sweetpea Boot
bogsfootwear.com
The Sweetpea boots by Bogs are an everyday-Alaska women's boot. They are sleeker and more stylish than most waterproof rain boots on the market making them a great item for an Alaska professional on the go.
Bogs B-Moc Wool Women's Insulated Boots
bogsfootwear.com
The plush comfort of these boots keep toes warm and toasty. They're fully lined in faux fur and feature shock-absorbing, rebound-cushioning technology in the outsole for foot support. They are also slip-resistant and waterproof for wearing in inclement weather.
XTRATUF Sharkbyte Deck Shoe
xtratuf.com
We like that these slip-on shoes give great no-slip traction with XTRATUF's well-known slip-resistant, non-marking Chevron sole. They are meant to be a functional boat shoe, but are also stylish to be worn off the boat. Choose from black or brown.
Korkers Ice Runner
korkers.com
Korkers Ice Runner is a well-built ice cleat for active outdoor lives. You can use these lightweight, form-fitting cleats while ice fishing, exercising, or just every day in Alaska in the winter. They are easy to slip on, even over a hearty pair of winter boots, thanks to the BOA system that Korkers uses in many of their boot designs.
Salomon X ALP SPRY W
salomon.com
Lightweight and great for hiking, our tester says these shoes are a packing-list item for lodge trips. They are comfortable footwear for the evening after wearing wading boots or XTRATUFs all day, plus versatile and lightweight to hike in, or for a walking tour of one of Alaska's towns.
KEEN Westward Mid WP Hiking Boot
keenfootwear.com
We got these boots wet and muddy and believe they are a great hiking boot for Alaska's trails. We appreciate their sturdy design and their comfort.
Danner Women's Mountain 600 Hiking Boot
danner.com
The Women's Mountain 600 hiking boots by Danner felt great right away. The sole is worth noting because in this boot Danner is utilizing a combination of the Vibram SPE midsole and Fuga outsole which results in the maximum grip for wet, rough terrain. They perform great in Alaska and they are stylish.
XTRATUF Men's 6-Inch Insulated Elite Legacy Ankle Boot
xtratuf.com
These boots are really handy when you need to keep your feet dry, but won't be going in water more than ankle deep. Our tester said he appreciates the loop on the front and back of the boot as both handles make it easy to don the slip-on boot. It features the time-proven, non-slip, Chevron outsole and is made of 5 mm neoprene coated with Honeywell's chemical-resistant rubber compound.
Back to Editors' Choice Awards