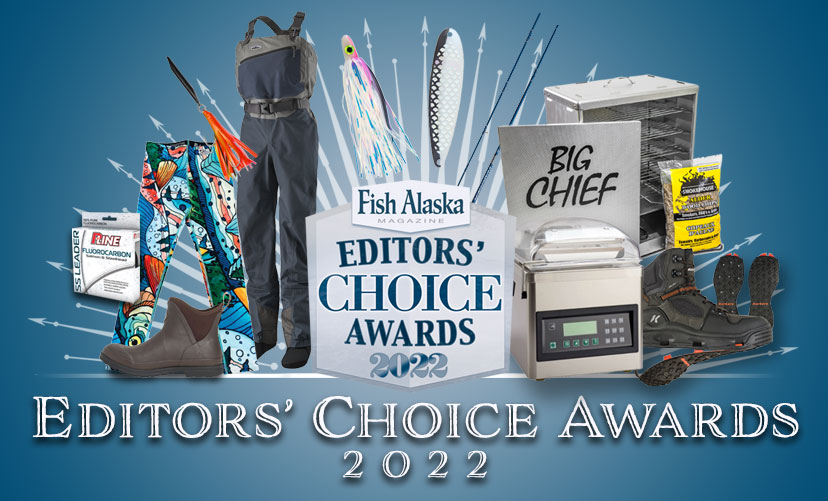 There's nothing we look forward to more than fishing and testing gear.
Items that you will see reviewed include rods and reels, tackle, line, field accessories, knives, nets, watercraft and accessories, wading gear, apparel, cooking and camping equipment and the list goes on.
From open ocean to protected bays, burly rivers to spring creeks, giant lakes to intimate ponds, our crew has spent another season using equipment that may help you be more successful in the field in 2022.
Enjoy this year's Editors' Choice Awards.
The best outdoor gear for fishing in Alaska!
One of our greatest pleasures each year at Fish Alaska magazine is to test gear. The range of useful gadgets, high-tech clothing, space-aged-material rods and reels, and ever-more realistic lures has never been greater. From the high seas of the North Pacific to the tiniest trickles of gin-clear mountain water, we've tested items across the Great Land in 2022. Here's a look at some of those items we successfully used. This year's categories include: Rods and Reels; Tackle; Line; Field Accessories; Watercraft and Accessories; Waders, Wading Jackets and Boots; Apparel: Jackets; Apparel: Bottoms; Apparel: Layering; Apparel: Accessories; Apparel: Footwear; Polarized Sunglasses; Kids' Gear; Storage, Coolers and Containers; Luggage, Packs and Cases; Camping; Cooking; Knives and Cutting Tools.